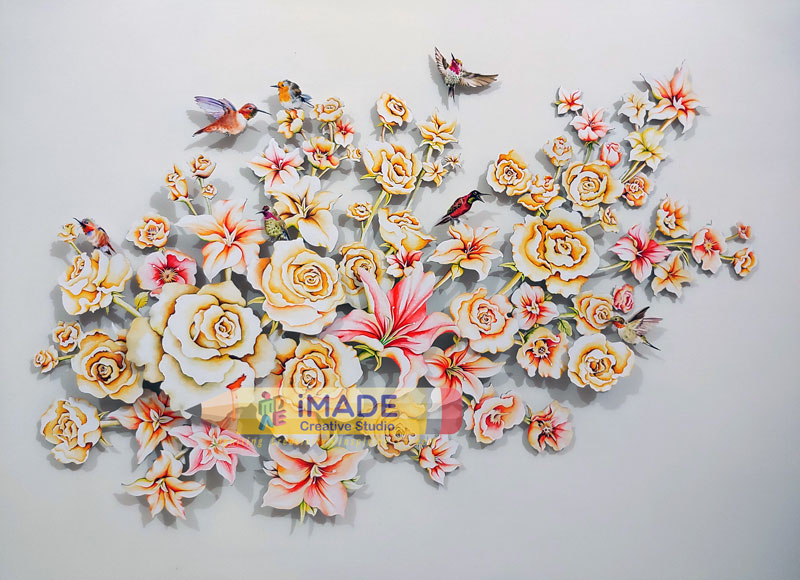 Master Painting styles and mediums, draw like a professional, get to understand an artwork, become an Artist in 2 year Fine Art Diploma course offered by iMADE.
People who always wanted to be a Fine Art professional/ Artist but couldn't get into 4 years
BFA

course
this course will teach them all the important things a fine art college offers but in a span of 2 years. Candidates can pursue a parallel degree course in other subjects alongside our diploma course.
---
---
Why to study Fine art diploma at iMADE :
Course content is delivered in a simplified manner
Live drawing classes with in depth information, techniques, methodology, process of drawing with relevant theory
Best MSU, Baroda, DU – MFA (Masters in Fine Arts) and NID, NIFT, SPA faculties
Top College level study
Classes supported by best study materials
Subjects delivered in Practical and theory sessions
Study trips, Outdoor sketching and painting classes
Museums, Art fairs and Gallery visits
Updated Art market information
Student support and assistance
Library facility (Best Fine Art, Design, Architecture and Aesthetics books)
iMADE Online Admission Process
iMADE Online classes are live classes with best faculties

Student needs to give his/her details (Name, Valid Phone number, Mail ID, Course, Location) through filling the "Send Enquiry" form

Or Call us or WhatsApp us directly on these numbers: 9818320236 ; 9818494593

Or Mail us his/ her details on: imadecreativestudio@gmail.com

iMADE counsellor or admission team will contact the student to provide detailed information of the courses and classes

Upon confirmation of credentials, iMADE will send the student payment link details and Enrolment form

Once the student is enrolled with iMADE he/she will receive class notifications, further links and study materials
Student needs to give his/her details (Name, Valid Phone number, Mail ID, Course, Location) through filling the "Send Enquiry" form

Or Call us or WhatsApp us directly on these numbers: 9818320236 ; 9818494593

Or Mail us his/ her details on: imadecreativestudio@gmail.com

iMADE counsellor or admission team will contact the student for scheduling the demo class

Student may be asked to share his/her identity proof, if asked by the iMADE authority

iMADE always aspires for the safety of students and positive learning environment

Once the demo is scheduled, student will receive a Link to the class on the registered phone number or mail ID
iMADE Syllabus for
2 year Fine art Diploma Course

:
Drawing part :
Drawing basics
How to draw anything and everything
Basics perspective
One point perspective
Two point perspective
Three point perspective
Pencil rendering
Pen and Ink drawing
Technical pen drawing and rendering
Human anatomy
Action figure drawing
Drawing hands and feet
Indian ink drawing
Still life
Learning tonal variations
Light and shadow drawing – single tone
Drawing as an artwork
Indian style linear drawing
Draw like great masters
Caricature drawing
Architectural drawings
Interior drawings
Colour pencil :
Portrait making
Flora and fauna
Landscape painting
Realistic figure art
Creative figure art
Still life artwork
Acrylic Colour :
Canvas painting
Landscape painting acrylic
Modern landscapes
Modern figurative painting
Creative figure painting
Contemporary art
Oil Colour :
Great masters style – Oil colour still life
Great masters style – Oil colour landscape with mood
Oil colour portrait
Great masters style – Figurative narrative painting
Renaissance / Neo-classicism painting
Art Styles:
Renaissance Art
Neo-Classical Art
Cubism Painting
Surrealism Painting
Abstract Painting
Realistic Art
Pointillism Painting
Contemporary Art
Individual style development
Gallery trends and styles
Applied Art and Design :
Logo making
Branding of a Business
Poster, Brochure and template creation
Colour theory and application
Graphic design
Illustration
Photography
Content Creation
Applied Art basics
Advertisement designing
Printing basics
Art Theory :
Art history
Styles of art in different ages
Why and how styles evolved
Modern art
Meaning of modern painting and valuation
Beauty in Art and Aesthetics
Identifying and classifying artwork
iMADE Students Artwork