Live Online and Classroom Coaching for UCEED; 12+ years of Expertise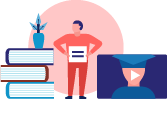 380+ Hrs.
Live Online Classes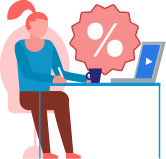 Live Demo
Book Now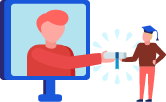 94%
Success Ratio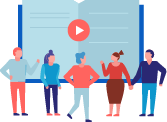 15
Student Batch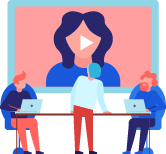 Free
Counselling
Book Now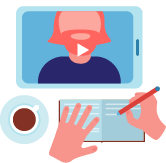 IIT/NID
Faculty
Given the fact that UCEED is one of the toughest exam to crack iMADE has an upper-hand in UCEED Entrance Exam Coaching, having more than 154+ students are part of IIT Bachelors in Design now. iMADE is offering UCEED coaching since the initiation of the exam itself and offering UCEED Online Coaching for past 4 years. The UCEED Coaching program is developed by Alumnus of IIT, NID, NIFT, SPA itself and conducted in a self-paced manner.
21 Oct 22
Registration Last Date
22 Jan 23
UCEED Exam Date
Fresh Batch
Available
---
---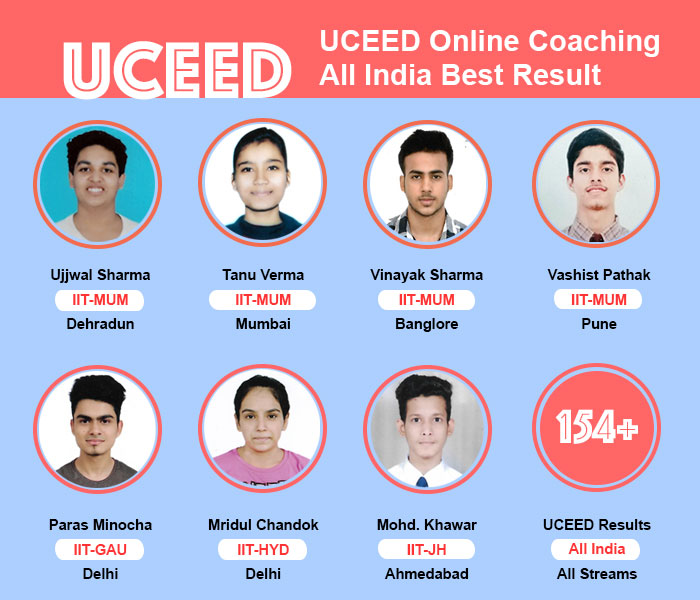 ---
UCEED Coaching Upcoming Batches 2023 & 2024
All B.Design Entrance Coaching Upcoming Batches for 2023 & 2024
For Students of Class 9th, 10th, 11th, 12th & 12th Passouts
---
Why join iMADE for UCEED Entrance Exam Online Coaching:
iMADE team is Alumnus of IIT, NID, SPA, NIFT, MSU dedicated to create curriculum and study materials of maximum value for students
Updated information and current design thinking and solutions
Unique question papers made to cater the standards of IIT, NID, NIFT and other premier institutes
Live Drawing Sessions, Design Assignments and Projects, Regular Evaluations,Mock Tests
Past 5 years solved papers, Sample question papers
Self-paced study and Student friendly environment

---
iMADE course curriculum for UCEED Entrance Exam:
Design Fundamentals, SCAMPER (Mind Mapping & Brainstorming)
Basics of Drawing
Visualizing 3D shapes, space and application
Ergonomics
Perspective Drawing
Light and shadow
Human Anatomy and Proportional scaling
Pictorial and diagrammatic understanding
Critical thinking
Color Theory
Psychology and Application of Color
Lateral Thinking
Observation and design sensitivity
Environmental and Social awareness
Language and Creativity
Creative Thinking and Writing
Psychoanalysis of Drawing
Metamorphosis
English Comprehension
History of Artefact
History of Art
History of Design
Sustainable Design Responses
Anthropomorphism (Character Design)
Comic book creation and Sequential Drawing
Signage and Info graphics
Communication Design
Typography and Calligraphy
Futuristic Design
Product Designing
Product Dissection
Interior Designing basics
Compositions
Analysis of Design Layout
Portfolio
Mock test
---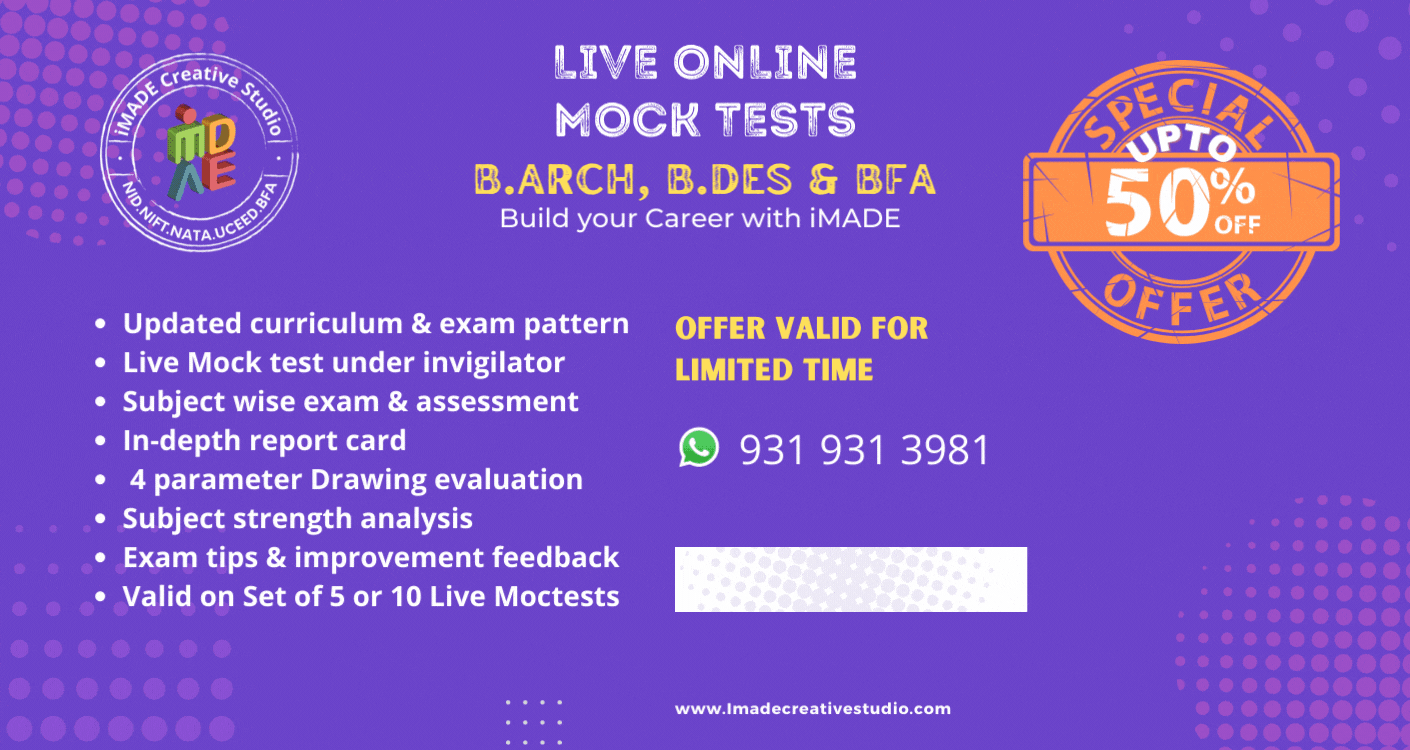 ---

---
What is UCEED exam?
UCEED is Undergraduate Common Entrance Exam for Design, conducted by Indian Institute of Technology Bombay for candidates seeking admission to the Bachelors Degree in Design (B.Des) program at Indian Institute of Technology Bombay (IITB), Indian Institute of Technology Guwahati (IITG), Indian Institute of Technology Hyderabad (IITH), and Indian Institute of Information Technology Design and Manufacturing Jabalpur (IIITDMJ). Candidates form ANY STREAM can appear for UCEED exam (Science, Commerce or Arts & Humanities), who completed their XII last year or appearing for exam the same year the exam is conducted are eligible but allocation of seats for participating institutes are different. Candidates from Science stream with Physics, Chemistry and Mathematics as subjects are eligible to apply for all the 4 participating institutes, but Candidates from any stream (Science without Maths or Physics or Chemistry, Commerce and Arts & Humanities) are eligible to apply to IIT Bombay, IIT Hyderabad and IITDM Jabalpur. IIT Bombay, IIT Guwahati and IIT Hyderabad has central seat allocation in the time of B.Des admission.
UCEED Question paper and pattern 2024
The examination is of 3 hour duration in English. the paper is divided into Part A and Part B and both parts are mandatory.
PART – A (Computer based test – Total: 240 Marks, Time limit: 2 hours 30 mins)
Section 1 : NAT (Numerical Answer Type) 18 questions (4 marks each; no negative marking) The answer would be entered using the virtual keyboard in the computer screen. There will be no multiple choices.
Section 2: MSQ (Multiple Select Question) 18 questions (4 marks each; -1 negative marks). Each MSQ have more than one correct answer out of given 4 options.
Section 3: MCQ (Multiple Choice Questions) 32 questions (3 marks each; 0.71 negative marks). One single answer is correct out of given 4 options.
PART-B
(Drawing or Written based; Total 60 marks; Time limit: 30 mins)
2 questions will be given to the candidate to be drawn/ written in answer book to test drawing skills of the candidate.
Drawing: Ability to draw products, people or scenes in proportion with good line quality, composition, proportion, perspective and shading.
Design aptitude: Capability to practically and appropriately respond to problems/situations with ingenuity and empathy.
Total time given to complete Paper-A and Paper-B is 3 hours.
Syllabus of UCEED Entrance Exam:
UCEED 2024 will have two parts.
Part-A
will have questions from the following topics:
  Visualization and spatial ability: Pictorial and diagrammatic questions to test, understanding of transformation and/or manipulation of 2D shapes and 3D objects and their spatial relationships, knowledge of practical and everyday mechanical and scientific concepts.
  Observation and design sensitivity: Ability to detect concealed properties in ordinary things, people, situations, and events, and thinking critically about them. Applying attention to certain details, analysing, reasoning, classifying, inferring and predicting. Ability to discern subtle differences in visual properties and aesthetic outcomes.
  Environmental and social awareness: General awareness of environmental factors such as climate, population, water, vegetation, pollution, weather, natural resources etc., and their implications on the design of products, images, infrastructure and environment. Awareness of social and cultural connection with design, history of the designed artefact, and socially responsible and environmentally sustainable design responses. History of art, sculpture and literature.
  Analytical and logical reasoning: Ability to look at information, be it qualitative or quantitative in nature, and discern patterns within the information. Ability to weigh opinions, arguments or solutions against appropriate criteria. Ability to check for hidden bias or hidden assumptions and whether evidence and argument support conclusions. Ability to use logic and structured thinking to deduce from a short passage, which of a number of statements is the most accurate response to a posed question. Data Interpretation, brainteasers, and patterns.
  Language and creativity: Ability to understand and use Standard English. Reading comprehension, knowledge of English grammar. Ability to think creatively in terms of alternatives, ability to distinguish innovative options and think out of the box.
  Design thinking and problem solving: Ability to use visual analogies, metaphors, signs and symbols. Ability to understand complexity, identify problem, generate alternatives, evaluate options and select solutions.
Part-B
will have question from the following topic:
Ability to draw products, people or scenes in proportion with good line quality, composition, proportion, perspective and shading.
 Design aptitude: Capability to practically and appropriately respond to problems/situations with ingenuity and empathy.
Important note:
only online registration is allowed for appearing UCEED exam. Portal link: UCEED Link
Eligibility for appearing for UCEED in 2024:
A candidate, including a foreign national, must simultaneously fulfil each and every one of the following three criteria to appear in UCEED 2024.
Criterion 1 – Age limit:
The candidate should have been born on or after October 1, 1999 if belonging to the OPEN/EWS/OBC-NCL category and born on or after October 1, 1994 if belonging to the SC, ST or PwD category.
Criterion 2 – Number of attempts:
A candidate can attempt UCEED for a maximum of two times and that too in consecutive years. Note that UCEED score is valid for one year, and only for admissions in the same corresponding academic year.
Criterion 3 – Qualifying examination:
The candidate should have passed in all subjects in the qualifying examination (Class XII or equivalent) in 2023, OR should be appearing for the qualifying examination for the first time in 2024 in order to be eligible for attempting UCEED 2024. Students from ALL STREAMS (Science, Commerce, and Arts & Humanities) are eligible.
Those who appeared for the first time in their qualifying examination (Class XII) in 2022 or earlier are NOT eligible to appear in UCEED 2024.
UCEED Important Dates 2023:
UCEED Registration Fee for 2023:
UCEED Top Colleges and Seat Matrix
*EWS – Economically Weaker Section *OBC-NCL – Other Backward Classes-Non-Creamy Layer *SC – Schedule Cast *ST – Schedule Tribe