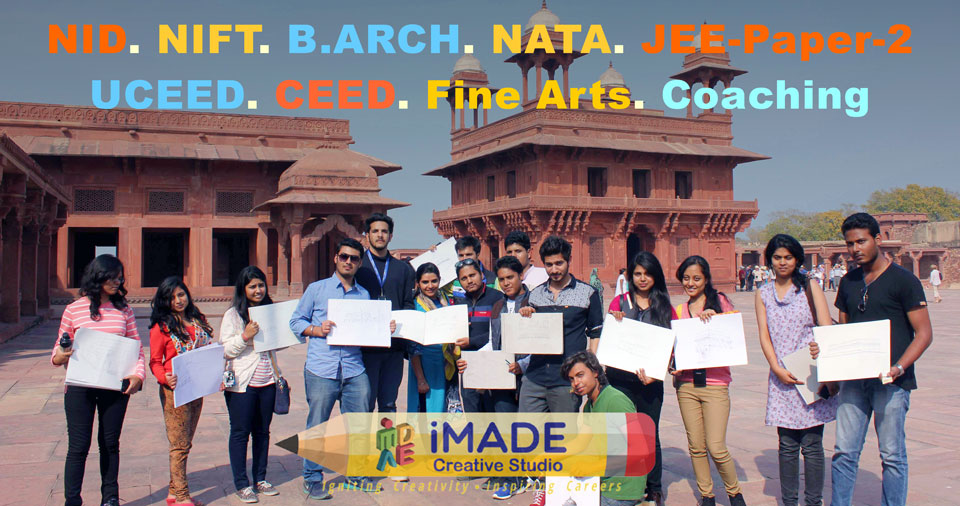 380+ Hrs.
Live Online Classes
25% Dis.
Till 31st Jul
100%
Success Ratio
10+
Mock Tests
20
Student Batch
SPA/IIT
Faculty
.
Online and Classroom Coaching for JEE-B.Arch; 9+ years of Expertise
iMADE Creative Studio is providing JEE Mains Paper 2 coaching / B.arch coaching for past 9+ years in Delhi NCR with students studying at SPA (School of Planning and Architecture), Jamia Milia Islamia, NITs, CFTIs, GFTIs, CCA (Chandigarh College of Architecture), SFTIs and other colleges. iMADE has a success ratio of 97% passing results in JEE mains Paper 2 exams. The B.Arch coaching program is conducted by M.Arch faculties from reputed institutes of IIT, SPA, IP alumnus. iMADE's coaching pattern for B.Arch course is covering all the prescribed syllabus (please check the detailed syllabus below in this article) with Mathematics, Aptitude, Architectural theory and Drawing ability in detail. We have updated our syllabus and teaching pattern according to the recent changes made by JEE Apex Board (JAB) for 2020 exams.
iMADE Online Admission Process
iMADE Online classes are live classes with best faculties

Student needs to give his/her details (Name, Valid Phone number, Mail ID, Course, Location) through filling the "Send Enquiry" form

Or Call us or WhatsApp us directly on these numbers: 9818320236 ; 9818494593

Or Mail us his/ her details on: imadecreativestudio@gmail.com

iMADE counsellor or admission team will contact the student to provide detailed information of the courses and classes

Upon confirmation of credentials, iMADE will send the student payment link details and Enrolment form

Once the student is enrolled with iMADE he/she will receive class notifications, further links and study materials
Student needs to give his/her details (Name, Valid Phone number, Mail ID, Course, Location) through filling the "Send Enquiry" form

Or Call us or WhatsApp us directly on these numbers: 9818320236 ; 9818494593

Or Mail us his/ her details on: imadecreativestudio@gmail.com

iMADE counsellor or admission team will contact the student for scheduling the demo class

Student may be asked to share his/her identity proof, if asked by the iMADE authority

iMADE always aspires for the safety of students and positive learning environment

Once the demo is scheduled, student will receive a Link to the class on the registered phone number or mail ID
What is JEE Mains Paper 2 ?
Candidates seeking admission into B.Arch (
Bachelors of Architecture
) / B.Planning (Bachelor of Planning) in any SPAs (School of Planning and Architecture), NITs (National Institute of Technology) other Centrally Funded Technical Institutions (CFTI), SFTI (State Funded Technical Institutes) and others would have to appear for the examination of JEE Mains Paper 2, which is now held twice in a year from 2019 onwards. JEE Mains Paper 2 is conducted in the month of January and April. Two Attempts are allowed in a single year for students to have a better chance to perform and score higher. The major change from one attempt in a year to two attempts has been established from the academic year of 2019. This CHANGE IN THE NUMBER OF ATTEMPTS has especially helped 12th appearing students who have their Board-exams coinciding with many entrance exams in the month of April. For admission in India's one of the very best colleges of Architecture and Planning, one has to give JEE PAPER 2 Examination. The students will have following benefits of the JEE MAINS PAPER-2 new pattern:
Students can improve their scores in 2 attempts if they were unable to clear in 1st exam or the score was not satisfactory, without wasting their whole academic year
There are several factors to perform well in examination like: Time management, test pattern, drawing solutions etc. So students can have an experience of the pattern of examination before attempting the second exam.
If any student fails to attempt the examination then they can opt for the second one without wasting a year.
The best score out of the 2 examinations attempted by the student will be considered for the Ranking/ Merit list
Why to Join iMADE
Teaching methodology is contemporary with student friendly classes
In detailed coverage of curriculum with easy narration and navigation
Preparing notes that helps the student to retain information for life long use
Apart from the prescribed subjects associate subjects are covered for  holistic understanding
Live drawing classes with in depth information, techniques, methodology, process of drawing with relevant theory
Improve your drawing skills like a professional without having prior drawing knowledge
Revised/ Improvised study materials every year
Online Assignment/ Portfolio submission, doubt clearing & discussion next class
Small batches of students so that every student gets personal attention
Study tours and sketching trips
Higher success ratio is with students' improvement
Regular mock tests and revisions to monitor growth
iMADE course curriculum for JEE Mains paper II / B.Arch Online Coaching:
Basics of Drawing
Visualising 3D shapes, spaces and application
2D & 3D drawings
Perspective drawing
Shade & Shadow
Composition building
Rendering
Anatomy
Ergonomics
Measurements
Colour theory
Application of colour
Colour psychology and analysis
Object and Furniture drawings
Interior & Exterior drawing
Still life
Verbal & Non-verbal reasoning
Mathematics
Aptitude
Architecture theory
Mock tests
B.Arch complete information / What is B.Arch
People who wish to have a
career in Architecture
have to obtain a degree and a licence to practice as an Architect in India issued by Council of Architecture (COA) the regulatory authority for registration of Architects and standards of Architecture education in India. First a candidate has to opt for B.Arch (Bachelors of Architecture) a 5 year degree course provided by many Government undertaking and private Universities and Colleges in India. After your successful completion of 5 year degree course COA will allot you a Architect registration number.
JEE Mains Paper 2 question pattern for 2020:
B.Arch:
B.Planning
Timing:
02:30 p.m. to 05:30 p.m.
Note:
The timing for those Candidates who opt for B.Arch. and B.Planning. (both) will be 02:30 p.m. to 06:00 p.m. (IST)
Examination dates of JEE Mains Paper 2 (2020-21):
The First JEE(Main)-2020 will be conducted in January 2020 between 6th January (Monday) and 11th January (Saturday) 2020
The Second JEE(Main)-2020 will be conducted between 3rd April (Friday) and 9th April (Thursday) 2020.
B.Arch Entrance Exam Syllabus :
The pattern of examination of upcoming 2020 Jee mains paper 2 for B.Arch and B.Planning has changed according to the information released by NTA (National Testing Agency). The B.Arch and B.Planning will have separate exams. B.Arch will have 2 Drawing questions (Paper and Pen based), whereas B.Planning will have 25 questions specifically based on B.Planning replacing the drawing part. Mathematics part has reduced the questions from 30 to 25. 20 questions are Multiple Choice Questions (MCQs) and rest 5 will be questions, where the candidates has to answer in Numerical value. Aptitude part has 50 questions now, 10 questions more than last year, which is a good news for the creative and aware mind.
B.Arch Mathematics Syllabus:
Sets, Relations and Functions
Complex numbers and Quadratic equations
Matrices and Determinants
Permutations and Combination
Mathematical Induction
Binomial Theorem and its simple applications
Sequences and Series
Limit, Continuity and Differentiability
Integral Calculus
Differential Equations
C0-Ordinate Geometry
Three Dimensional Geometry
Vector Algebra
Statistics and Probability
Trigonometry
Mathematical Reasoning
B.Arch Aptitude Syllabus:
Part – I
Awareness of persons, places, buildings, materials
Objects, Texture related to Architecture and build-environment
Visualising three dimensional objects from two dimensional drawings
Visualising different sides of three dimensional objects
Analytical Reasoning
Mental Ability (Visual, Numerical and Verbal)
Part – II
Three dimensional perception
Understanding and appreciation of scale and proportion of objects
Building forms and elements
Colour texture
Harmony and contrast
Design and drawing of geometrical or Abstract shapes and patterns in pencil
Transformation of forms both 2D and 3D -Union, Substraction, Rotation
Development of surfaces and volumes
Generation of Plan, Elevations and 3D views of objects
Creating two dimensional and three dimensional compositions using given shapes and forms
Sketching of scenes and activities from memory of urbanscape
Public, Space, Market, Festivals, Street, Scenes, Monuments, Recreational spaces etc.
Landscape (river fronts, jungles, gardens, trees, plants etc.
Rural life
Note:
Candidates have to bring their pencils, geometry box set, colour pencils, erasures and crayons to be utilised for Aptitude test.