Artists, Designers and Architects are the creators of the Culture, Society and Social Understanding, so we are hiring The Creator's Creator.
We like to be around with enough compassionate personnel.
TEACH, SHARE and BUILD with the next generation.
Please share your detailed information, resume, experience and sample works or projects with us. We value your passion for Life.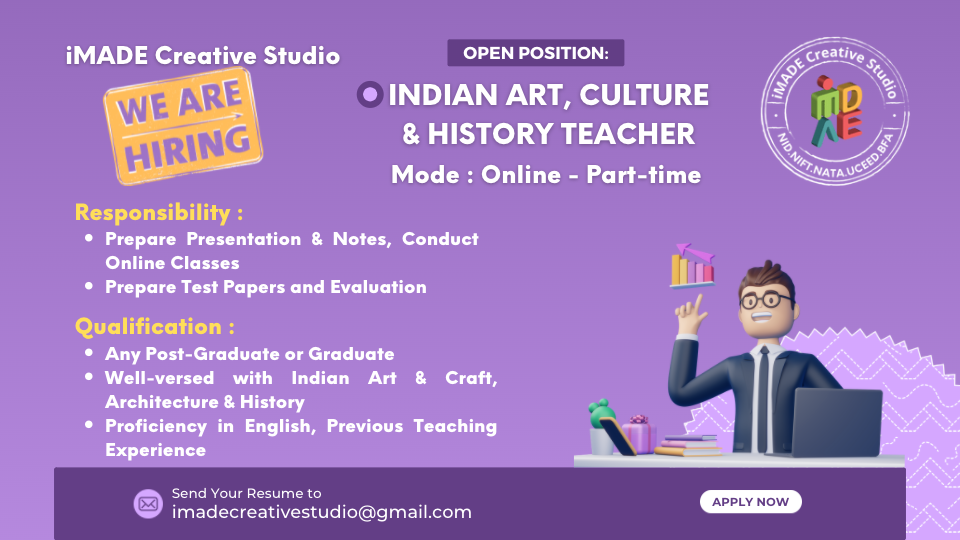 Vacancy for Teaching Job at iMADE
Qualification & Job Criteria
NID (Product/Industrial) or IIT Post-Graduate
Product & Engineering knowledge
Flexible class timings (Weekends)
Salary Class wise
Anywhere from India
Vacancy for Fine Art Teaching Job at iMADE
Qualification & Job Criteria
Master or Bachelors of Fine Art from any National level University/ College
In-Depth knowledge of Fine-Art
Skilled in all mediums and styles
Good drawing skills and concept understanding is must
Salary Negotiable
Anywhere from India
Previous Teaching experience is preferable
Vacancy for Student Management and Office job
Qualification & Job Criteria
Minimum qualification Graduation in any stream
Good English & Hindi Communication skills
Good negotiation skills
Hardworking & Confident
Basic office software, Computer & Mobile application knowledge
Salary Negotiable
Contact for further enquiry
iMADE CREATIVE STUDIO VACANCY FORM
Click on the link to fill the form
Vacancy Form