What is B.Arch? B.Arch or Bachelor of Architecture Complete information, Admission Process, Top Colleges and University, Seat Matrix, Exam Dates etc.
What is B.Arch?
Every building, every monument, even the modern apartment homes that we live in or corporate buildings that we work at are designed and built by an architect. 

An architect has to have a thorough knowledge about different kinds of places, the terrains, the climatic conditions, etc., and accordingly use different materials and methods to create houses or buildings that are sustainable, safe, durable earthquake proof. 

B.Arch or Bachelor of Architecture in India is a Full Time 5 Year Undergraduate Degree Program. 

In India, NATA  & JEE Mains Paper 2 A & 2 B conducted by COA & NTA respectively, are the most important B.Arch entrance exam conducted on an All India Level attempted by approx.

1 lakh, 38 thousand students

every year. 

The Scores achieved in NATA are accepted in colleges like Jamia Millia Islamia, CEPT, and many more private and autonomous colleges. 

The scores achieved in JEE Paper 2A are accepted across most NITs (National Institute of Technology) , CFTIs (Central Funded Technical Institutes), SPAs (School of Planning & Architecture) , GFTIs (Government Funded Technical Institutes). 

It is mandatory to clear either JEE Mains Paper 2 or NATA or both the entrances to get admission to Architecture university or college. iMADE recommends students to appear for both the entrance exams to have a wider choice regarding colleges and universities. 

In the 5th year of the B.Arch degree program, students participate in Internship programs at reputed architecture companies which provides the students the practical and hands- on experience that they need to become a skilled architect. 
B.Arch Entrance Exams in India
For B.Arch, entrance exams are conducted on national & on state level. 
Entrance exams that are conducted on an All India Level for B.Arch are:
Most colleges across India accept Scores achieved in NATA & JEE Mains Paper 2A for admission. 

Students who have appeared for JEE Mains Paper 2A will undergo centralized counseling by JoSAA & CSAB.

Many States conduct state counseling for admission in Architecture. 

States like Maharashtra, West Bengal, Chandigarh, conducts state counseling in which they release a merit list based on aggregate of 12th score & entrance score.

According to the merit list students will receive a rank

According to the Cut-off released by colleges, students can apply as per their rank and preferred college. 

Wondering how to get notifications regarding both National Level and State Level entrance exams? Well, at iMADE Creative Studio, Admission updates and guidance are provided in all regular and crash course coaching programs.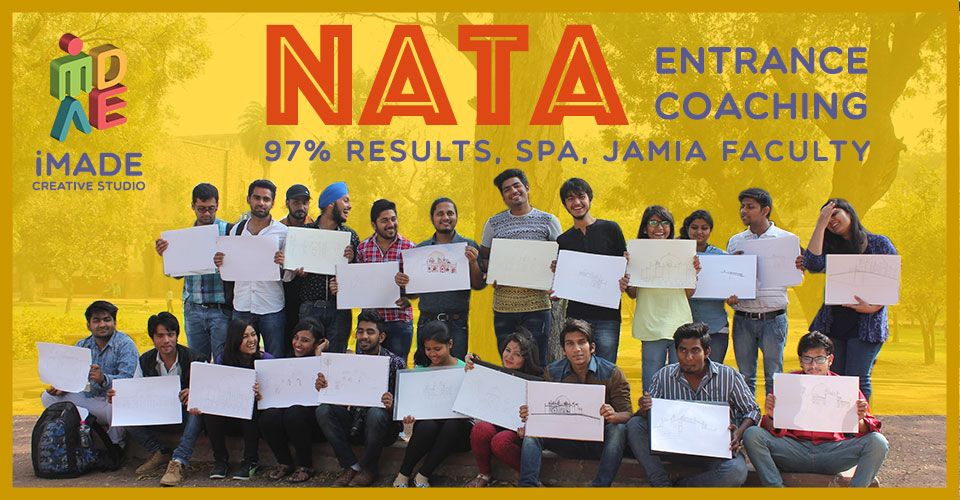 ---
NATA & JEE Coaching
Learn from Experts
---
Learn More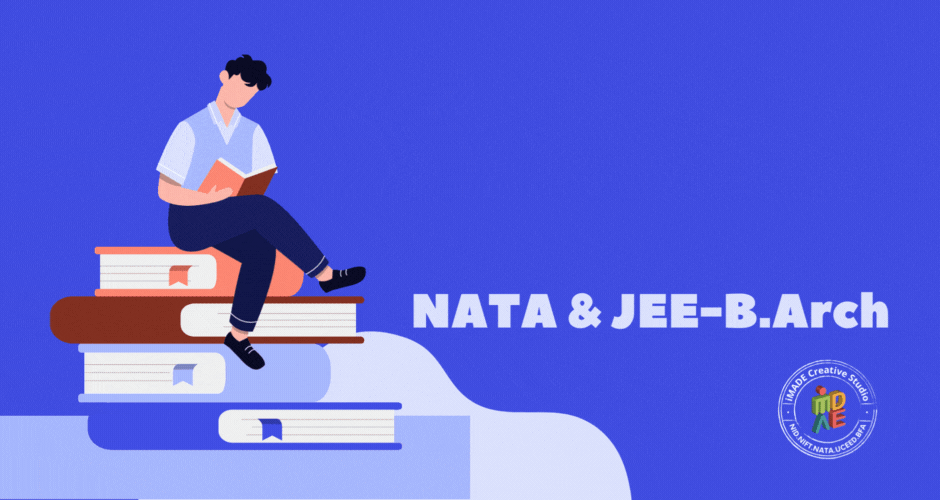 ---
NATA & B.Arch Smart Study
DAT + GAT + AAT + RSNG
---
Learn More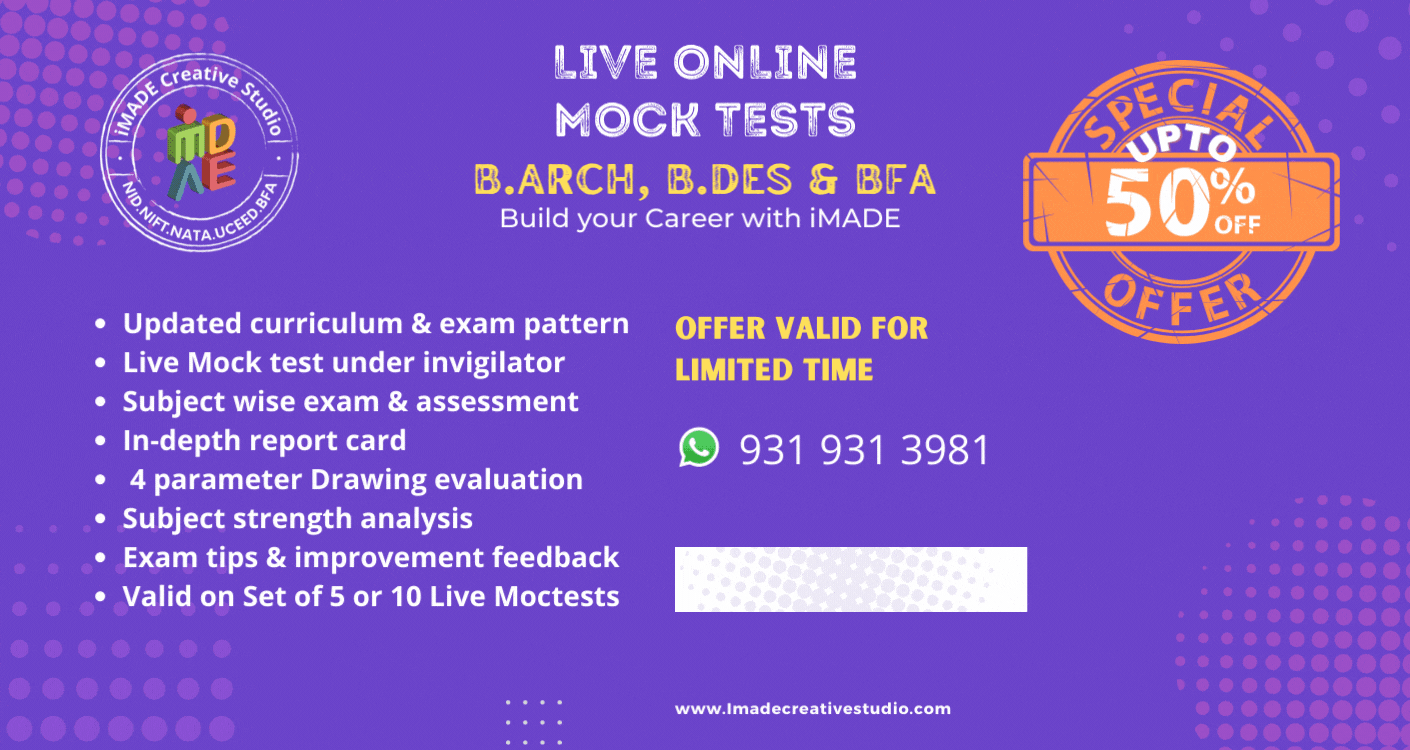 ---
Mock Test Packages
B.Des + B.Arch + BFA-CUET
---
Learn More

 Eligibility to apply for B.Arch
To apply for JEE Mains Paper 2 & NATA, the student must:
Must have appeared/ is appearing for 12th Board exams from PCM, i.e., Physics, Chemistry & Mathematics stream

Must have 50% aggregate in PCM 
Students, who have pursued a 3 years duration Architecture with Maths Diploma from any AICTE recognised institutes can also apply for JEE Paper 2 & NATA.
There is no age limitation to apply for JEE Paper 2A and NATA. 
If your target college is IITs, then you have to qualify for JEE Advance. Only students who have qualified JEE Advance can apply for AAT (Architecture Aptitude Test). BUT, students can apply for AAT only 2 times and in consecutive years. 
Admission Procedure for B.Arch
As we already know that there are primarily 2 examinations which are most important for admission in B.Arch courses.
JEE Mains Paper 2A is conducted in 2 Sessions between April & May.

 Before 2019, JEE Mains Paper 2 was conducted only once annually, but since 2019, it is being conducted in 2 sessions.__

This CHANGE IN THE NUMBER OF ATTEMPTS has especially helped students who are appearing for the 12th Board-exams which coincides with many entrance exams in the month of April.

Students have the choice to appear for both attempts and the best score achieved out of the two attempts will be considered for admission. 

Similarly, NATA is also conducted in 2 or 3 sessions.

In 2022, NATA was conducted in 3 attempts. Students have the choice to appear in all the 3 or 2 attempts or 2 attempts or even for 1 attempt. If a student attempts for all the 3 sessions, then the average score of 2 best attempts will be considered for admission. In the same way, if a student had appeared for 2 attempts, then the highest score achieved out of the 2 attempts will be considered for admission. 

Students who appear for the JEE Paper2 are provided centralized college counseling by JoSAA where the student is allotted to a college according to the score that they have achieved.

Unlike JEE Mains, NATA does NOT provide centralized college counseling. That means that students have to individually apply for their desired colleges with the valid NATA score.
Top Universities & their Cut-Off
Almost all Architecture Colleges in India accept either JEE Paper 2 Score or NATA. If you are aiming for IITs then JEE Advance Score is absolutely essential.
The cut off changes every year depending upon various factors and are updated every year.
Exam Pattern for B.Arch Entrance Exam
Although both JEE Paper 2A and NATA are important Architecture exams in India, both vary somewhat in the examination pattern.
In JEE Paper 2A, there are 3 modes or parts. Part 1 is Aptitude, Part 2 is Maths & Part 3 is Drawing. Part 1 & Part 2 are conducted in CBT or Computer Based mode. Part 3 is conducted in Pen & Paper mode.

Before 2020, NATA followed a similar pattern of entrance exam as that of JEE Paper2, but after the pandemic, Drawing is no longer part of the exam as of now i.e., it may be included in upcoming years. So the NATA exam will be based on Maths and Aptitude. However, in depth understanding of drawing is necessary for the conceptual based drawing questions. 

If you want to know more about NATA & JEE Paper 2 syllabus, visit iMADE Creative Studio Website. The link is in the description box. 
Career in B.Arch
After the completion of a 5 years degree program, the students achieve a license from COA or Council of Architecture that states that the student is a certified architect and full-fills all the necessary criteria required to pursue architecture as a profession. Without this license, you cannot become a recognised architect. 
Students can apply in both government and private sectors. 
In the government sector students can apply at National Institute of Urban Affairs, City Development Corporation, Urban Development Corporation, etc. 

In the private sector, there are many architecture firms and real estate companies that offer opportunities for aspiring architects.  

With an Architecture degree, students can qualify for positions like Architectural Historian or journalist, Urban Planner, Interior Designer, Landscape Architecture, and many more. 
So, if you are aspiring for a creative career and not traditional courses then architecture is just the course for you. Join iMADE Creative Studio's Live Online B.Arch Entrance preparation courses and start our preparation the creative way. With more than 12+ years experience and student base from across the world, iMADE brings to you industry best faculties from SPA, IITs and NITs at the tip of your fingertips. What are you waiting for?! Join the leaders.. Join iMADE