Description
Bachelor of Fine Arts preparation
Bachelor of Fine Arts preparation is for students applying for BFA entrance exams at colleges like: College of Art – Delhi, Banaras Hindu University, MAH AAC CET (all Maharastra BFA colleges like: JJ, Rachna Sansad etc.), Jamia Milia Islamia – Delhi, Shantiniketan, Govt. College of Art Kolkata, Maharaja Sayajirao University – Baroda etc. This course is created and taught by Master of Fine Art faculty from these top colleges in easy to understand language with lot of reference images and examples.
Bachelor of Fine Arts (BFA) is an undergraduate degree program in India that focuses on the study of visual or fine arts. The course is designed to provide students with understanding of various creative art forms such as Painting, Sculpture, Photography, Film-making, Graphic-design/ Applied Arts, Visual communication, Printmaking and Art history. This degree program is usually of four years and is offered by many reputed universities and colleges in India.
✅ India's No.1 Preparation
✅ 75+ hours video lecture
✅ Study Materials
✅ Live online Mock-tests
✅ Smart Worksheets
✅ Exam Notifications
According to a report by the National Skill Development Corporation (NSDC), the creative industry in India is expected to grow 11.8% year on year and there could over 62 lakh job opportunities by 2022 for people from creative education such as Bachelor of Fine Arts, Bachelor of Design etc. This is a good news for all the creative professionals and BFA graduates from good colleges have the opportunity to build a successful career.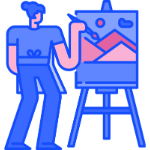 All BFA Exams

BFA + CUET + MAH-CET + FADEE

Prepare for all India BFA entrance exams with support for BFA + CUET + MAH-CET + FADEE exams.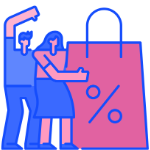 ₹3,999

₹15,000 70% Flat Discount

Hurry up! Avail discount of flat 70% for BFA Smart Study. This offer is valid for 1st 1000 students.
---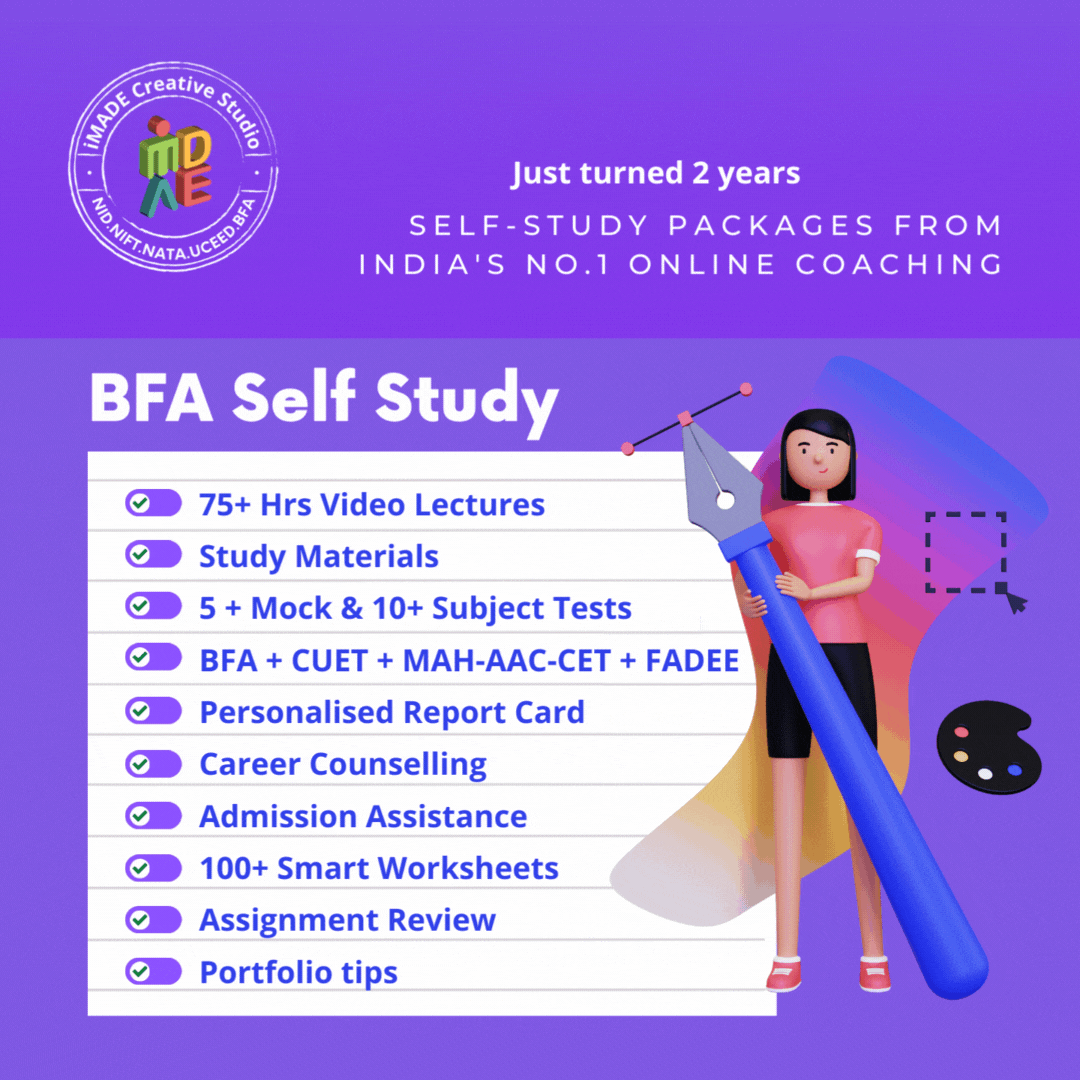 ---
Our Top Lectures
Bachelor of Fine Arts exam preparation Curriculum:
Drawing Syllabus
✅ Human Figure Drawing
✅ Basics of Sketching
✅ Object Sketching
✅ Object Drawing & Shading
✅ Basics of Perspective
✅ 1 Point Perspective
✅ Memory Composition
✅ Still life Composition
✅ Figures with objects composition
✅ Basics of Applied Arts
✅ Poster Making
✅ Colour Theory
✅ Colour Psychology
✅ Colour Application
✅ Watercolour Composition
✅ Landscape Painting
BFA-CUET Theory Syllabus:
✅ Rajasthani Miniature
✅ Pahari Miniature
✅ Mughal Miniature
✅ Deccan Miniature
✅ Bengal School
✅ Indian Modern Art
✅ Indian History of Art
✅ Indian Modern Painters
✅ Indian Temples
All India Student Testimonials
---
---
---