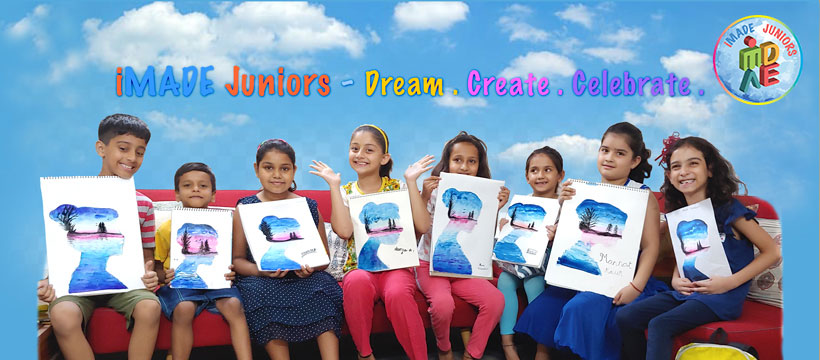 iMADE Juniors is a 6+ years program, imparting quality Education in the field of Art and Creativity. We teach Basics and Advanced Drawing, Sketching, Colouring methodology, Landscape, Character and Cartoon drawing, Design basics, Architecture basics, Comic creation, Book making and more to Kids.
iMADE has a huge advantage of teaching to future Designers, Architects and Artists for 9+ years. Our in depth knowledge about the field enables us to prepare strong foundation for Kids Creative education.
Importance of Art
Art Increases Brain Connectivity and Plasticity. Every time you engage in a new or complex activity, your brain creates new connections between brain cells. Your brain's ability to grow connections and change throughout your lifetime is called brain plasticity or neuroplasticity.
Art helps Kids to learn and Grow their skills Faster.
Kids Art Classes Curriculam:
Human Sketching
Bird & Animal Sketching
Oil Pastel- Landscape, Flora & Fauna
Oil Pastel- Human Figure
Realistic Portrait
Watercolor- Landscape, composition, Festival, Season
Watercolor- Abstract, Modern, Fluid Art
Watercolor- Flora & Fauna, Flowers, Trees, Birds, Animals
Poster Color painting- color shades, lining, mixing, texture
Poster Color- Nature, Scenery, Cityscape, Landscape
Poster Color- Figure, Human Face, Expressions, Postures
Poster Color- Folk art, Madhubani, Gond, Patachitra, Warli
Mandala Art- Using Pen, Sketch pen
Cubism- Abstract Art, Understanding of simple form, color and light
Pointilism- Stippling Art, On paper or canvas
Conceptual Art- About social topics and creative painting
Ball Pen Drawing- Nature, portrait, animals, birds, creative graphics
Modern Art
Creative Painting
Acrylic & Fabric painting on canvas
Charcoal Drawing
Double Exposure painting
Botanical Painting
iMADE Online Admission Process
iMADE Online classes are live classes with best faculties

Student needs to give his/her details (Name, Valid Phone number, Mail ID, Course, Location) through filling the "Send Enquiry" form

Or Call us or WhatsApp us directly on these numbers: 9818320236 ; 9818494593

Or Mail us his/ her details on: imadecreativestudio@gmail.com

iMADE counsellor or admission team will contact the student to provide detailed information of the courses and classes

Upon confirmation of credentials, iMADE will send the student payment link details and Enrolment form

Once the student is enrolled with iMADE he/she will receive class notifications, further links and study materials
Student needs to give his/her details (Name, Valid Phone number, Mail ID, Course, Location) through filling the "Send Enquiry" form

Or Call us or WhatsApp us directly on these numbers: 9818320236 ; 9818494593

Or Mail us his/ her details on: imadecreativestudio@gmail.com

iMADE counsellor or admission team will contact the student for scheduling the demo class

Student may be asked to share his/her identity proof, if asked by the iMADE authority

iMADE always aspires for the safety of students and positive learning environment

Once the demo is scheduled, student will receive a Link to the class on the registered phone number or mail ID