Online and Classroom Coaching for NID; 12+ years of Expertise
NID Design Aptitude Test (DAT) or NID Studio test is suitable for 2nd round preparations of NID GDPD, NID PGDPD , Srishti, Pearl, MIT and other design colleges. This course is hands on and covers Clay Modeling, 3D modelling, Audio Visual tests, Doodling, Material exploration, Psychometric round, Portfolio review, Live sketching and Mock interviews.
Duration of NID DAT Mains test classes at iMADE:
15 to 30 days preparation before NID DAT Mains Test or any other Design Model making examination.
---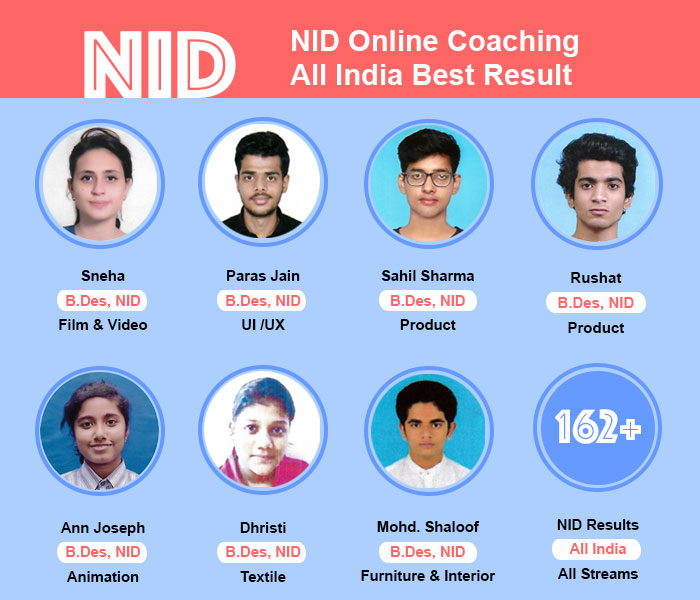 ---
---
---
---
iMADE's syllabus for NID DAT Mains preparation or Model making round (2nd round) of Design preparation:
Basic 3D shape making with paper
Complex 3D paper model making
Thermocol modelling
Clay modelling
Wire modelling
Design models
Using of materials and creating meaning
Sculpting
Working with clothes
Psychometric round
Doodling exercises
Problem solving designs
Live sketching
Why to join NID DAT Mains test preparation at iMADE:
NID, NIFT, MSU Masters in Design mentors
Explorations of more than 30 materials for Design Model making
Conceptualising and layouting thoroughly for smooth execution of ideas
Learn efficient, effective and economical usage of materials
Clay modeling, Thermocol carving, Wire work and other hands on techniques
Time management and unique concepts
Small batches for personalised learning
What is NID DAT Mains or NID Studio test:
The 2nd round of design test of NID, which comprises of hands on Design Model making, Doodling, Audio Visual tests, Psychometric round, Live sketching, Mapping, creation of a particular physical design and other activities set in the NID Studio environment to test creativity in students is known as NID Design Aptitude Test (DAT) test or NID Studio test. This round of preparation will help students to appear for all the Design colleges entrance exams.
iMADE Online Admission Process
iMADE Online classes are live classes with best faculties

Student needs to give his/her details (Name, Valid Phone number, Mail ID, Course, Location) through filling the "Send Enquiry" form

Or Call us or WhatsApp us directly on these numbers: 9818320236 ; 9818494593

Or Mail us his/ her details on: imadecreativestudio@gmail.com

iMADE counsellor or admission team will contact the student to provide detailed information of the courses and classes

Upon confirmation of credentials, iMADE will send the student payment link details and Enrolment form

Once the student is enrolled with iMADE he/she will receive class notifications, further links and study materials
Student needs to give his/her details (Name, Valid Phone number, Mail ID, Course, Location) through filling the "Send Enquiry" form

Or Call us or WhatsApp us directly on these numbers: 9818320236 ; 9818494593

Or Mail us his/ her details on: imadecreativestudio@gmail.com

iMADE counsellor or admission team will contact the student for scheduling the demo class

Student may be asked to share his/her identity proof, if asked by the iMADE authority

iMADE always aspires for the safety of students and positive learning environment

Once the demo is scheduled, student will receive a Link to the class on the registered phone number or mail ID