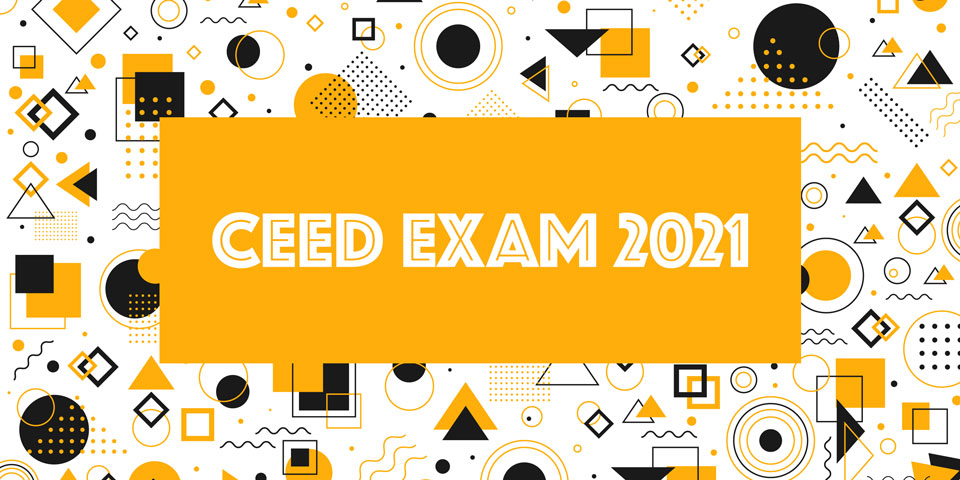 CEED Exam 2021
Common Entrance Exam for Design (CEED) is a Joint entrance exam conducted by Industrial Design Centre (IDC) IIT-Bombay held annually for Post-Graduation studies in the field of technical design. CEED examination assess the candidate's ability for design sensibility involving drawing skills, logical reasoning, visual perception, communication, creativity, design problem solving skills, knowledge and sustainability.
CEED is the qualifying examination for admission to Master of Design (MDes) programs offered by IIT Bombay, IISC Bangalore, IIT Delhi, IIT Guwahati, IIT Hyderabad, IIT Kanpur and IITDM Jabalpur and also to Ph.D programmes in Design at IISc Bangalore, IIT Bombay, IIT Guwahati, IIT Hyderabad, and IIT Kanpur. CEED score is also eligible for several other non-participating design colleges.
Qualifying CEED doesn't guarantee a seat in participating institutes, candidates may further go through an individual selection process like: Interview and Portfolio.
iMADE Creative Studio offers CEED Entrance Exam coaching. The course structure is designed by IIT & NID Alumnus. Check the details:
CEED ENTRANCE COACHING
Check the Program & Curriculum
Learn More
CEED Exam Important Dates
These are the dates of CEED Entrance Exam 2021 released by IIT - Mumbai, the CEED exam conducting authority.
Note: that the eligibility criteria for admission to various institutes may differ from the eligibility criteria for appearing for CEED. Before applying for CEED, candidates are advised to check whether they meet the required eligibility criteria for admission to various institutes. There is no age limit to appear for CEED. A candidate can appear for CEED any number of times.
CEED Examination Pattern and Evaluation 2021:
CEED 2021 Examination will be held in 2 parts. Part-A marks will be used to shortlist candidates for Part-B exam.
Part-A is a computer based exam, contains objective questions of three types, i.e., Numerical Answer Type, Multiple Choice Question, and Multiple Select Questions.
Part-B consists of questions that are aimed at testing design, drawing and writing skills. There will be 5 questions in Part-B. The questions will be shown on the computer screen and answers will be written in the answer book provided by the invigilator. The answer sheet will be collected after the exam.
Part-B of CEED is a subjective question and there is no model solution for it. It will be evaluated holistically on a set of criteria given in the question.
Note: Part-B answer sheets will be evaluated only if the candidate is shortlisted in Part-A
CEED Syllabus for 2021 Examination:
CEED 2021 will be in two parts. Part-A will have questions related to these topics:
Visualization and spatial ability: Pictorial and diagrammatic questions to test the understanding of transformation and / or manipulation of 2D shapes and 3D objects and their spatial relationships.
Environmental and social awareness: General awareness of environmental factors such as climate, population, water, vegetation, pollution, weather, natural resources etc., and their implications on the design of products, images, infrastructure and environment. Awareness of design terminologies, social and cultural connection with design, history of the designed artefact, and socially responsible and environmentally sustainable design responses. History of art, sculpture and literature.
Analytical and logical reasoning: Ability to analyse given information logically and select the most appropriate solutions. Ability to weigh opinions, arguments or solutions against appropriate criteria. Ability to use logic and structured thinking to deduce from a short passage, which of a number of statements is the most accurate response to a posed question.
Language and creativity: Ability to understand passages in commonly used English language. Ability to think creatively in terms of alternatives, ability to distinguish innovative options and think out of the box.
Design thinking and problem solving: Ability to understand the context, the users and the constraints and select the most appropriate solution for a given design problem.
Observation and design sensitivity: Ability to detect concealed properties in day to day life and think critically about them. Ability to discern subtle differences in visual properties and aesthetic outcomes.
Part-B of CEED 2021 will have questions related to these topics:
Drawing: Ability to draw products, people or scenes in proportion with good line quality, composition, proportion, perspective, and shading.
Creativity: Ability to think out of the box and come up with unique as well as diverse solutions.
Communication skills: Ability to communicate concepts and ideas clearly with the help of text and visuals.
Problem identification skills: Ability to understand the user and the context, knowledge of properties of materials and their appropriate use in design, etc.
CEED Examination Requirements :
Identity Proof : (college issued identity card, passport, driving license, PAN card, Voter ID, Aadhar card or printed e-Aadhar card)
Admit Card : A clear printout of Admit card provided
Examination Timing: 9:00 AM to 12:00 PM
Reporting Time: 7:00 AM
Candidates should report at the examination centre at 7:00 am on Sunday, January 17, 2021 along with a printout of the admit card. This is required to record the biometric information (thumb impression and photograph) before appearing for the examination.
Stationary: Candidates must bring their own drawing material like pencils, sketch pens, pencil colours, poster colours, etc. for the examination. Candidates should NOT bring drawing sheets to the examination hall.
Electronic gadgets such as mobile phones, calculators, smart or digital watches etc. are NOT allowed in the examination hall. Use of any electronic gadget will disqualify the candidature.
For more detailed informations like: Reservation, Seat Allotment, Certificate Formats refer the attached CEED Brochure 2021
CEED Brochure 2021
Download Brochure