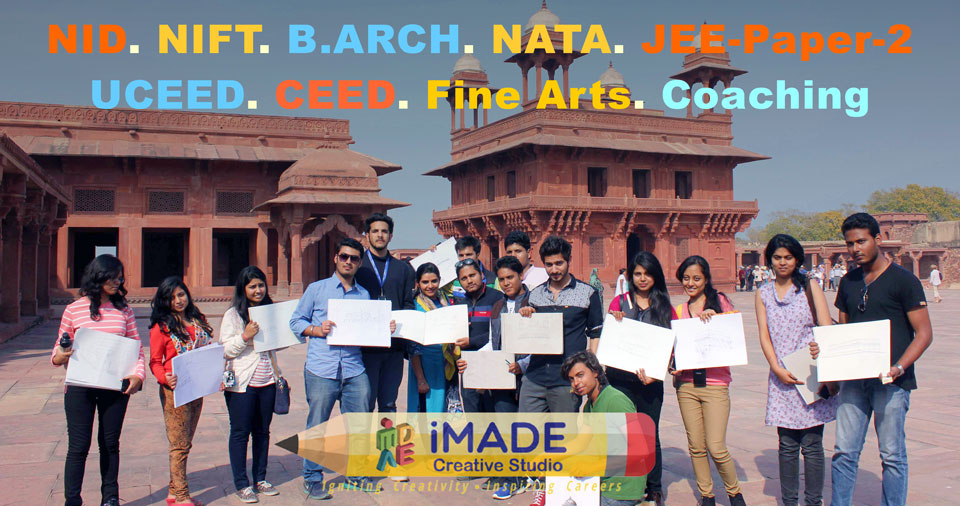 Live Online and Classroom Coaching for NID; 11+ years of Expertise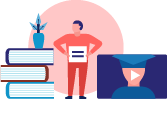 380+ Hrs.
Live Online Classes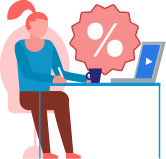 Live Demo
Book Now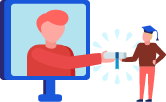 94%
Success Ratio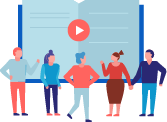 15
Student Batch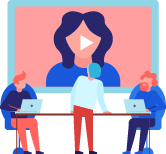 Free
Counselling
Book Now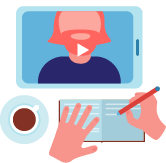 NID/IIT
Faculty
NID is the first and premium institute dedicated to design education in India, under the aegis of Ministry of Commerce & Industry.
iMADE provides Online & Classroom NID Coaching for all the B.Des & M.Des courses NID offers.
An overall understanding of design, functionality, sketching, time management, lateral thinking, research, execution of ideas, resource building accompanied with mock test and power point presentation.
---
01 Dec 23
NID Form Last Date
24 Dec 23
NID DAT Prelims Exam
27-28 Apr
DAT Mains Exam
---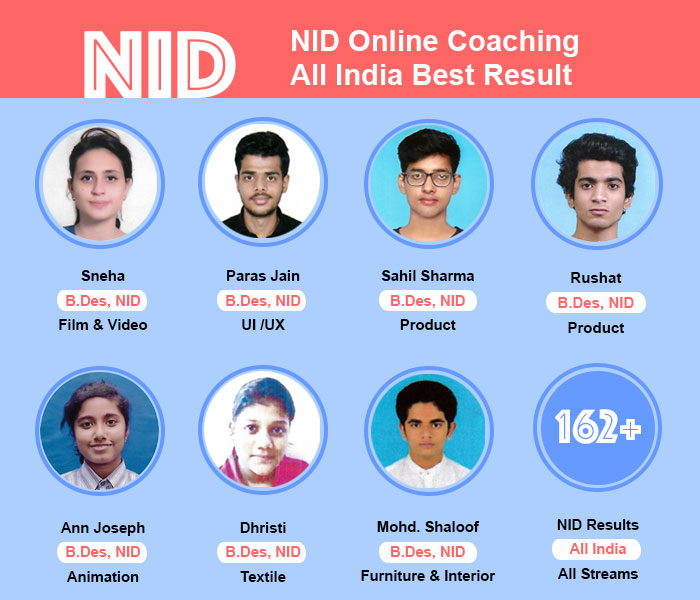 ---
NID Coaching Upcoming Batches 2023 & 2024
For Students of 11th, 12th & 12th passouts
All B.Design Entrance Coaching Upcoming Batches for 2023 & 2024
For Students of Class 9th, 10th, 11th, 12th & 12th Passouts

---
---
iMADE course curriculum for NID Coaching:
Design Fundamentals, SCAMPER (Mind Mapping & Brainstorming)
Basics of Drawing
Visualizing 3D shapes, space and application
Perspective Drawing
Light and shadow
Human Anatomy and Proportional scaling
Ergonomics
Color Theory
Psychology and Application of Color
Lateral Thinking
Creative Thinking and Writing
Psychoanalysis of Drawing
Metamorphosis
Anthropomorphism (Character Design)
Comic book creation and Sequential Drawing
Signage and Info graphics
Communication Design
Typography and Calligraphy
Futuristic Design
Product Designing
Product Dissection
Interior Designing basics
Compositions
Analysis of Design Layout
Diagrammatic Aptitude
Numerical Aptitude
Verbal Reasoning
Non-verbal Reasoning
Logical Reasoning
GK & Current Affairs
Portfolio Preparation
Live Mock tests
---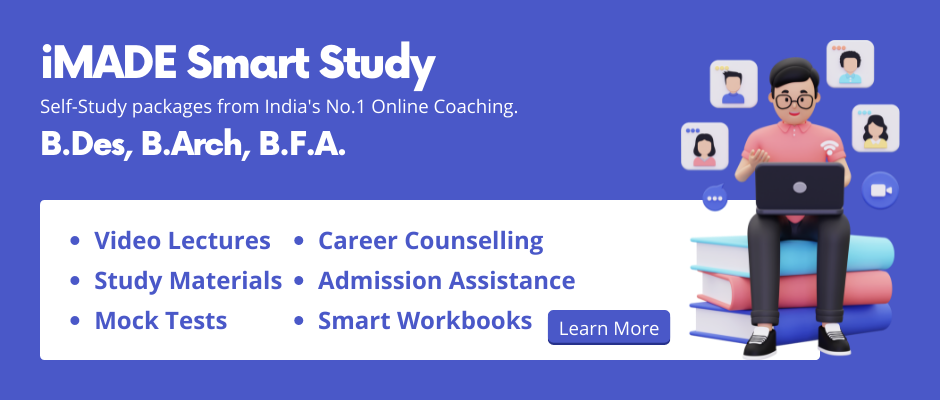 ---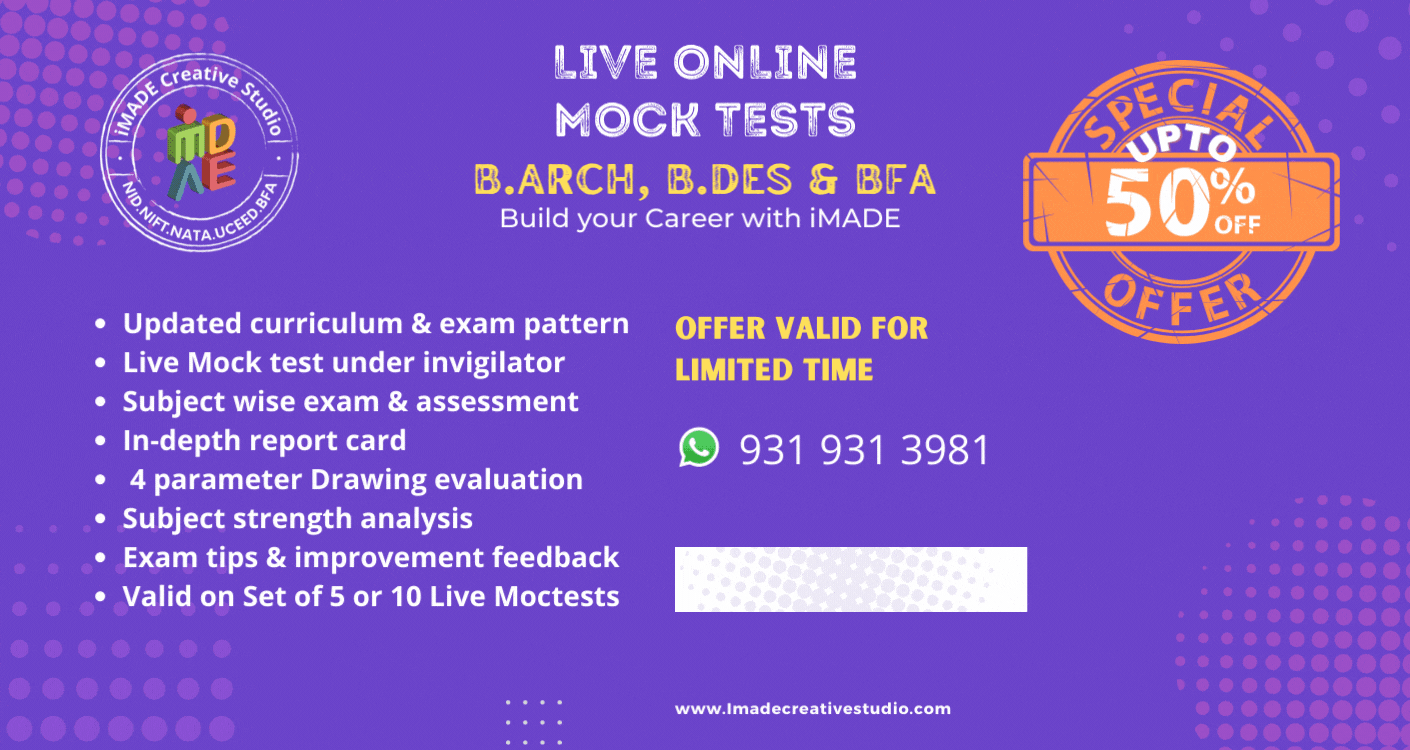 ---

---
Why iMADE
NID & NIFT (M.Des); IIT-Roorkee, SPA, Jamia (M.Arch); MSU(Baroda), College of Art(Delhi) (M.F.A.) Faculty to mentor students
Online coaching program, live classes, researched study materials, time savers and more
Updated teaching and study materials every year following the exam curriculum
Student friendly environment and faculty
Small student batches for personalised coaching
iMADE Online Admission Process
iMADE Online classes are live classes with best faculties

Student needs to give his/her details (Name, Valid Phone number, Mail ID, Course, Location) through filling the "Send Enquiry" form

Or Call us or WhatsApp us directly on these numbers: 9818320236 ; 9818494593

Or Mail us his/ her details on: imadecreativestudio@gmail.com

iMADE counsellor or admission team will contact the student to provide detailed information of the courses and classes

Upon confirmation of credentials, iMADE will send the student payment link details and Enrolment form

Once the student is enrolled with iMADE he/she will receive class notifications, further links and study materials
Student needs to give his/her details (Name, Valid Phone number, Mail ID, Course, Location) through filling the "Send Enquiry" form

Or Call us or WhatsApp us directly on these numbers: 9818320236 ; 9818494593

Or Mail us his/ her details on: imadecreativestudio@gmail.com

iMADE counsellor or admission team will contact the student for scheduling the demo class

Student may be asked to share his/her identity proof, if asked by the iMADE authority

iMADE always aspires for the safety of students and positive learning environment

Once the demo is scheduled, student will receive a Link to the class on the registered phone number or mail ID
About NID
The best known and the most sought after design institution is National Institute of Design (NID) is declared "Institution of National Importance" by the act of Parliament. It offers Bachelor of Design (B.Des.) a 4 year program offered in 8 disciplines and Masters of Design (M.Des.) in 19 disciplines. All the listed disciplines are offered in Masters of Design, only the mentioned disciplines offers Bachelors of Design The disciplines as follows:
NID Courses (B.Des and M.Des)
Animation Film Design
B.Des and M.Des
Animation is a widespread design used in Animation movies, Product Advertisement, Educational content and in every possible visual communication.
Apparel Design
M.Des only
Apparel Design in NID covers a broad area of garment industry apart from Fashion design. This course will enable you to work and design for Active sports wear, Functional clothing, Garment industry etc.
Ceramic and Glass Design
B.Des and M.Des
Students are taught to work with glass, ceramics, wood, leather, metal to create functional products as well as their own artistic expression. Designers of this discipline are able to work for lifestyle products, health sector, Hitech products, tableware, sanitary products, tiles etc. or start their own design firm.
Design for Retail Experience
M.Des only
This program is focused on Indian consumer behaviour and the complete retail experience to boost sales of brands which includes Design fundamentals & principles, Retail research, Retail spatial design, Retail communication & branding, Retail furniture & fixtures, Packaging, Retail Store Design & Visual merchandising, Retail systems & management are dealt with in a theoretical and project mode in the curriculum.
Digital Game Design
M.Des only
This course is focused on developing digital (Mobile and Computer based) games. Students will taught at developing characters, plots, narrative, game play, immersion, testing, aesthetics, basic ergonomics, social and liberal sciences, research methodology and design management etc. Graduates from Digital game design are sought after by Gaming and education industry.
Exhibition Design
B.Des only
Exhibition design is combining elements of visual communication, typography, signage, graphic design, spatial planning (space design), lighting, multimedia, structural knowledge to create immersive spaces for exhibitions, educational, communication and related purposes.
Film and Video Communication
B.Des and M.Des
This course is aimed at creating short films and videos for the purpose of advertisement industry, education, communication, entertainment, cultural and social needs.
Furniture and Interior Design
B.Des and M.Des
This discipline deals with creation of furniture and interior design from the perspective of sustainability, ergonomics, quality of life and anticipation of future.
Graphic Design
B.Des and M.Des
Graphic design deals with branding, corporate identity, typography, type design, packaging, printing, illustration, book designing, information and communications in digital medium and more. Graduates from this course are hired by graphic design firms or start their own design firms.
Information Design
M.Des only
In this era information, transaction records, data is digitised to be used by almost all the industries. Information design comes where the huge chunk of data is represented through interactive and clarified user experiences on various devices. The students are taught UI-UX design, information graphics, thematic cartography, visual design etc.
Lifestyle Accessory Design
M.Des only
This course is an extension to Accessory design where a designer will work in wide spectrum of domains, improving and designing the products for lifestyle and interior. Like for the interior lighting design, interior objects, furniture, space accessories etc. and for wearables watches, belts, bags, footwear, jewellery, scarf, bags and luggage, eyewear and other fashion accessories.
Job prospect of a Lifestyle Accessory Designer
A Lifestyle Accessory Designer will work under any big fashion house, boutique, home improvement company, interior design firm, product design company, eyewear company, jewellery, language company etc.
Interaction Design
M.Des only
Abbreviated as IxD, it is associated with designing softwares, digital products, systems, services, environments, human-computer interaction and also creating non-digital products and its human interaction.
New Media Design
M.Des only
The means of communications are changing from one way communication (Radio and TV) to interactive modes, so new media is ever changing. UI-UX design, Interacting design, web design are part of this course and candidates are hired by such industries.
Photography Design
M.Des only
Photography has implications in commercial communications and artistic as well. The job prospect in photography is freelancing, media houses, curators and gallery professionals, academics and research, documentation, journalism etc.
Product Design
B.Des and M.Des
This course is to create products and solutions for various industries and requirements like: Healthcare, Futuristic, Design for sustainability, Social impact, Improvising quality of life.
Strategic Design Management
M.Des only
This course is to build strategy for sustainable business in holistic approach securing future changes and development. Looking at business from a designing perspective.
Textile Design
B.Des and M.Des
Designing textile for apparel, furnishing, healthcare industry, public spaces, exhibition design and other interdisciplinary fields. This course includes making and learning textile fibres, weave structure, surface design, dyeing techniques, printing methods, sewing techniques, constructed textiles and basic inputs in garment design.
Toy & Game Design
M.Des only
The education scenario in present time is to merge game, fun and learning to cater all segments of people. This course involves gaming fundamentals, game theory and design, character design, softwares, modelling and creating educational toys etc.
Transportation & Automobile Design
M.Des only
Designing the future of mobility and transportation as well as solving and developing the current mobility challenges by creating products, systems and services.
Universal Design
M.Des only
Extension of product, this course is designing products to be used across different cultures. This program focuses on Universal design thinking & research, smart technologies, social & cultural studies, participative design development process etc.
Animation Design (B.Des.)
Apparel Design
Ceramic and Glass Design (B.Des.)
Design for Retail experience
Digital Game Design
Film and Video Communication (B.Des.)
Furniture and Interior Design (B.Des.)
Graphic Design (B.Des.)
Information Design
Interaction Design
Lifestyle Accessory Design
New Media Design
Photography Design
Product Design (B.Des.)
Strategic Design Management
Textile Design (B.Des.)
Toy and Game Design
Transportation and Automobile Design
Universal Design
Exhibition Design (Only B.Des.)
NID Admissions Important Date 2023
NID B.Des Seat Matrix (All Campuses)
National Institute Of Design Andhra Pradesh, Haryana, Madhya Pradesh & Assam has 25 seats each in all 3 Departments