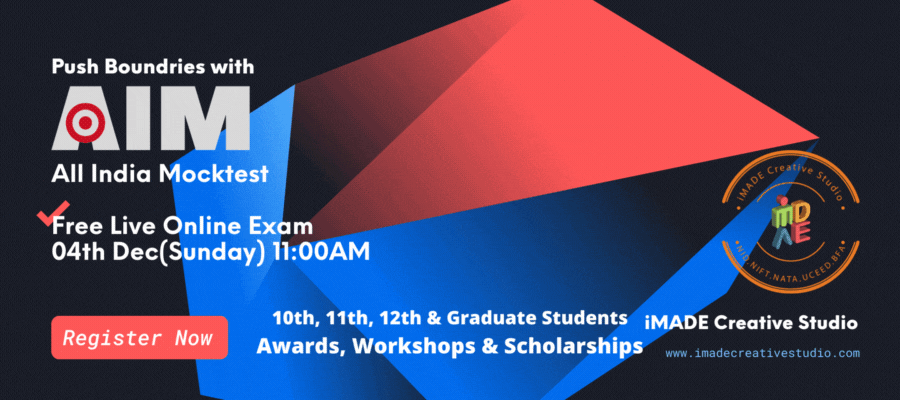 ---
AIM – All India Mocktest

is to sensitize students towards a creative career in Design, Architecture & Fine Art, through LIVE ONLINE MOCK TEST, followed by Live Online Workshops and Live Career Counselling by Industry experts, Educational Scholarships & Brainstorming workbook. The pattern of examination is similar to the respective exams, prepared by Alumnus and Faculty from prestigious colleges: IIT, NID, NIFT, SPA, JJ, MSU, BHU.
iMADE Creative Studio is industry leader in coaching for Design, Architecture & Fine Art for the past 12+ years in India and Abroad. iMADE success ratio is 98% in all streams. iMADE students are rank holders across top universities in nationally & internationally.
AIM Important Dates :
Awards & Scholarships:
AIM rewards for the participating students:
No registration fee / free AIM exam worth Rs.1,500. This includes in-depth subject wise CAT, GAT, review, Creativity, Design aptitude and Drawing skill test analysis in form of report card.
20 top scorer candidates from each category will receive  5 day Exam preparation workshop for free.
10 top scorers from each category will receive complementary Career-counselling worth Rs.5,000. This session will be held by iMADE with Industry experts from IIT, NID, NIFT-Delhi, SPA, MSU-Baroda, BHU, COA-Delhi Alumnus. Students will directly interact with faculty members and counsellors to gather insight about creative careers in Design, Architecture, Fine art and their future prospects, best colleges in India and Abroad, Eligibility criteria and more.
10 top scorers from each category will receive a scholarship of 50% in fee waiver upto Rs.1,25,000, if they join iMADE course/s within stipulated time. (Check the details below)
All participants will receive a Free copy of PDF book "iMADE Workbook" worth Rs1,500 in their registered mail/ WhatsApp. iMADE Workbook is a compilation of simple instruction based exercises to enhance your Creative and Drawing skills.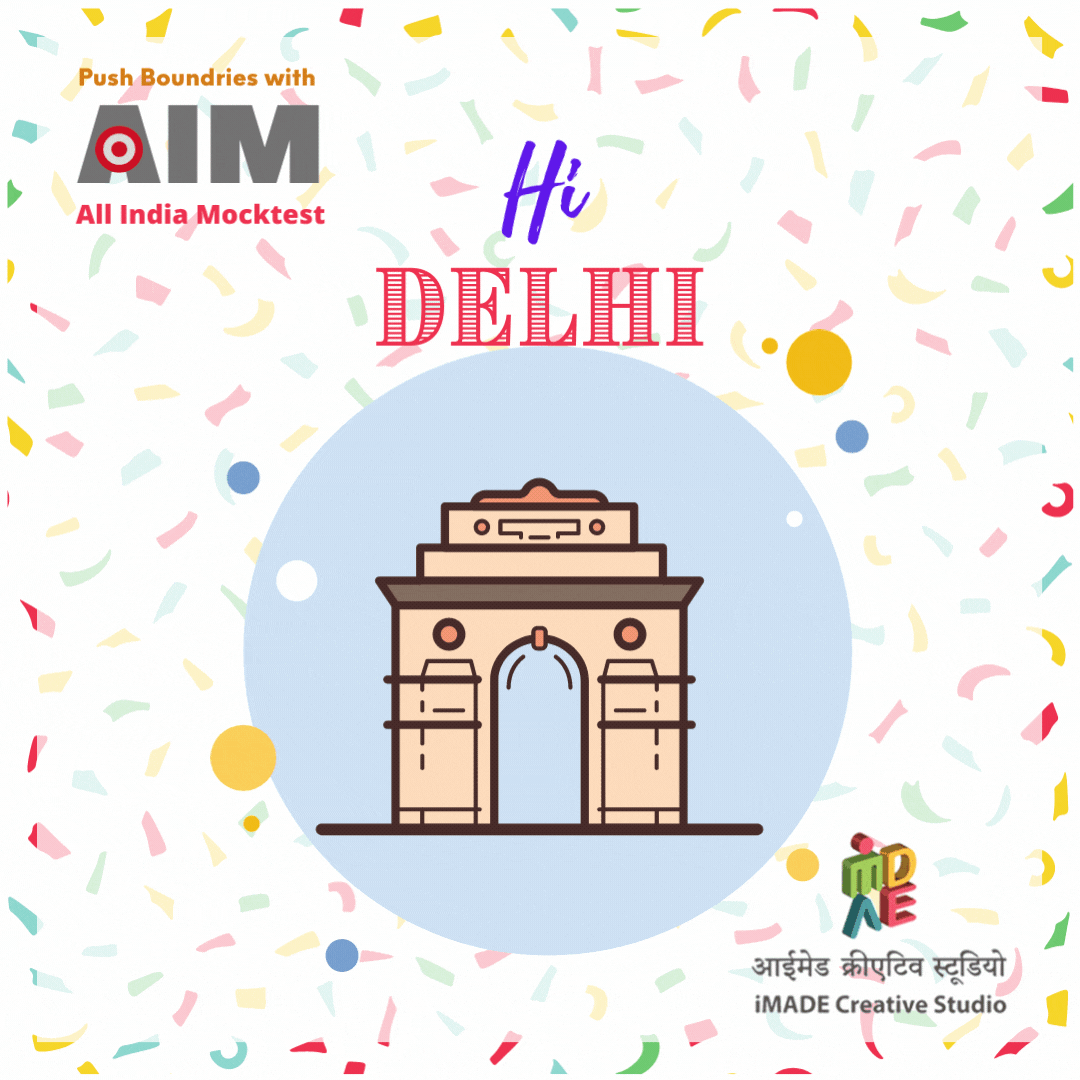 AIM Who can participate:
Students from India & Abroad studying in class 10th, 11th, 12th and 12th pass out, Diploma & Graduate students in 2021, 2022 & 2023 are ONLY eligible to appear for the AIM Live Online exam.

Students who are aspiring for careers in Art, Architecture and Design disciplines.

Students who want to explore unique, creative, innovative and future proof disciplines.

Students who wish to have first hand experience of Design, Architecture and Fine Art fields and evaluate their knowledge and interests.

AIM Registration requirements:

Candidates have to

fill the application form with valid documents

 to be able to appear in the exam. Exam application of the candidate will be confirmed post the verification of documents provided. Students who fail to provide the necessary documents or submit Registration Form with incomplete information will not be eligible for AIM.

Candidates must submit/upload  valid ID proof 10th certificate if studying in 11th, 12th & 12th certificate or mark sheet 12th pass out in 2021/2022 or 9th school mark sheet for 10th appearing students. Candidates appearing for M.Des exams must submit Graduation certificate.

Candidates have to provide a

valid WhatsApp number

for communication purpose and mail id if any to receive iMADE Workbook PDF and other details.

Candidates should NOT fill the form more than once. The registration form will be canceled if the candidate fills the form more than once.

Candidate can apply for 1 examination only. Request for multiple exams are not entertained. Please choose the appropriate stream.

Late submission will not be entertained.

AIM Code of conduct/ Examination guidelines:

iMADE adheres to the fundamentals of education and stands in solidarity with hardworking students.

All students are required to keep their Audio off and Video ON AT ALL TIMES during the session. The failure to maintain this will result in the cancellation of the candidates application.
All ART MATERIALS must be present with the student during the exam. Student will not be excused for material procurement during the exam session. Students leaving the examination session for any reason will be removed from the exam session and their paper will be canceled.
Late submission will NOT BE ENTERTAINED.
Candidates must attach and  upload all Mock related art works along with the form.
Candidates will not be excused from the Mock Test for any reason whatsoever once the test begins. The registration will be subjected to cancellation if the student leaves the examination in between without submission.
Candidates are requested to revise their answers before submission. Requests for change in form will not be entertained in case of incomplete or incorrect answer submission. The paper may be subject to cancellation as well.

AIM Scholarship:
AIM scholarship is for the 10 Top scorer from each category
Awardees will receive a scholarship as fee waiver of

FLAT 50%

(Discount) on iMADE course fee. For ex: If iMADE Coaching fees is Rs.12,000 then the candidate can avail the course for Rs.6,000.

 

Maximum amount upto Rs. 1,25,000 can be availed for iMADE Scholarship
AIM scholarship should be availed within 15 days of the result declaration. The scholarship can not be claimed post 15 days.
AIM scholarship will be applicable to short-term (6/8 months) & regular courses (1/2 years) on all iMADE online coaching programs.
If you receive AIM scholarship please call/WhatsApp our helpline number to know more or avail the offer : 9319313981

AIM Syllabus for each subject:

Design

Visualization and spatial ability: Pictorial and diagrammatic questions to test, understanding of transformation and/or manipulation of 2D shapes and 3D objects and their spatial relationships, knowledge of practical and everyday mechanical and scientific concepts.
Observation and design sensitivity: Ability to detect concealed properties in ordinary things, people, situations, and events, and thinking critically about them. Applying attention to certain details, analysing, reasoning, classifying, inferring and predicting. Ability to discern subtle differences in visual properties and aesthetic outcomes.
Environmental and social awareness: General awareness of environmental factors such as climate, population, water, vegetation, pollution, weather, natural resources etc., and their implications on the design of products, images, infrastructure and environment. Awareness of social and cultural connection with design, history of the designed artefact, and socially responsible and environmentally sustainable design responses. History of art, sculpture and literature.
Analytical and logical reasoning: Ability to look at information, be it qualitative or quantitative in nature, and discern patterns within the information. Ability to weigh opinions, arguments or solutions against appropriate criteria. Ability to check for hidden bias or hidden assumptions and whether evidence and argument support conclusions. Ability to use logic and structured thinking to deduce from a short passage, which of a number of statements is the most accurate response to a posed question. Data Interpretation, brainteasers, and patterns.
Language and creativity: Ability to understand and use Standard English. Reading comprehension, knowledge of English grammar. Ability to think creatively in terms of alternatives, ability to distinguish innovative options and think out of the box.
Design thinking and problem solving: Ability to use visual analogies, metaphors, signs and symbols. Ability to understand complexity, identify problem, generate alternatives, evaluate options and select solutions.
Drawing: Ability to draw products, people or scenes in proportion with good line quality, composition, proportion, perspective and shading.

Architecture

The aptitude of the candidate will be assessed using some or all of the following techniques:
Diagrammatic Reasoning – Tests the ability of logical reasoning, using diagrams and scenarios
Numerical Reasoning – Tests mathematical ability through simple problems
Verbal Reasoning – Assesses the ability to assess verbal logic
Inductive Reasoning – Tests the ability to see patterns and analyse given data
Situational Judgment – Tests problem-solving ability
Logical Reasoning – Tests ability to recognise patterns, sequences or relationships between shapes and imagery
Abstract Reasoning – Will assess general knowledge, and ability to utilise knowledge in new situations
GAT, MAT & CAT – Questions could be asked in various topics that assess candidates on basic concepts in mathematics, geometry, language and interpretation, elements and principles of design, aesthetic sensitivity, colour theory, lateral thinking and logical reasoning, visual perception and cognition, graphics and imagery, building anatomy and architectural vocabulary, basic techniques of building construction and knowledge of material, general knowledge and current affairs, etc. and are may not be limited to those outlined.
Drawing – Ability to draw products, people or scenes in proportion with good line quality, composition, proportion, perspective and shading.

Fine Art

The broad Fine Art syllabus after considering the exam patterns for BFA
Entrance Exam is divided into these subjects:
Drawing and Sketching
Compositions
Illustrations
Poster making
3D rendering
Art theory Indian Art History
Western Art History
Methods and Materials
AIM Terms & Conditions:
AIM: All India Mock Test is open for the prescribed age groups only
Late admission and submission will strictly not be entertained.
Candidates must not text or call iMADE HELPLINE for information. All information is available on iMADE Official Website. Candidates are expected to read all Terms and Conditions of AIM carefully before registering. Registration is subjected to cancellation if candidates fail to adhere to the regulations.
All applicants will receive confirmation/ cancellation of registration 24-48 hours from registration and verification for documents.
iMADE holds the right to use student information for marketing and promotional purposes.
Results declared by iMADE will be final. No objections will be entertained.
No RECHECKING of papers will be entertained.