iMADE has always keen on to impart education with every possible way, so we organise educational and sketching trips to historical places and important events and fairs.
2019 has been a very happening year for iMADE Students in terms of such educational trips.
1. India Art Fair visit 2019
Indian Art Fair which is the biggest International Art fair of India organised every year in month of January-February every year. This Art fair is a confluence of reputed Indian and International galleries, museums, Private and Public collections of Art works showcasing under a single roof.  Indian artists of International recognition, upcoming young artists, Internationally renowned artists works are shown to the public in this fair. So the crowd is diverse as well, coming from all around the globe. There were more than 3000 art works displayed for the public to understand the contemporary art scenario of India. Art works are as diverse as Paintings, Sculptures, Installations, Performances, Body Art, Wall Art, Site-specific art and Art Books publishers and lastly art stationary were displayed.
iMADE students were instantly happy with the fair design itself, which later hosted India Design ID just after the Art fair. This was a feast for the budding Designer, Artist and Architect eyes as well as eyes because of the cutting edge art shown in this exhibition. One can never imagine the impact until he/she experiences the phenomenon.
2. Comic-con India Visit
Another great feast for creative aspirants. Comic-con is hailed as Indian Pop-culture fair for the budding Indian youth. Being a fair of Illustration, Comics, Graphic novels, Game launch and Illustrators confluence Comic-con is gaining momentum in India for quite some years. So why not iMADE students jump into it as well.
We met with the little known to public but renowned Comic Artists, publishers, NGOs, Merchandising, Game designers and upcoming technology of printing (3D printers, Scanners etc.), Installation designs and more to recall.
3. Sketching Trip to Safdarjung Tomb

A classic work of Architecture of Mughal empire but less crowed in comparison with other popular monuments in Delhi, which offers great architectural details and more privacy to our work. We did a good 3 hour sketching to understand the important aspects of drawing, proportion, perspective and architectural study. Oh! did we forgot to mention that we had a lot of fun roaming around it, in self-indulgence (photographing ourselves) and of course having good food.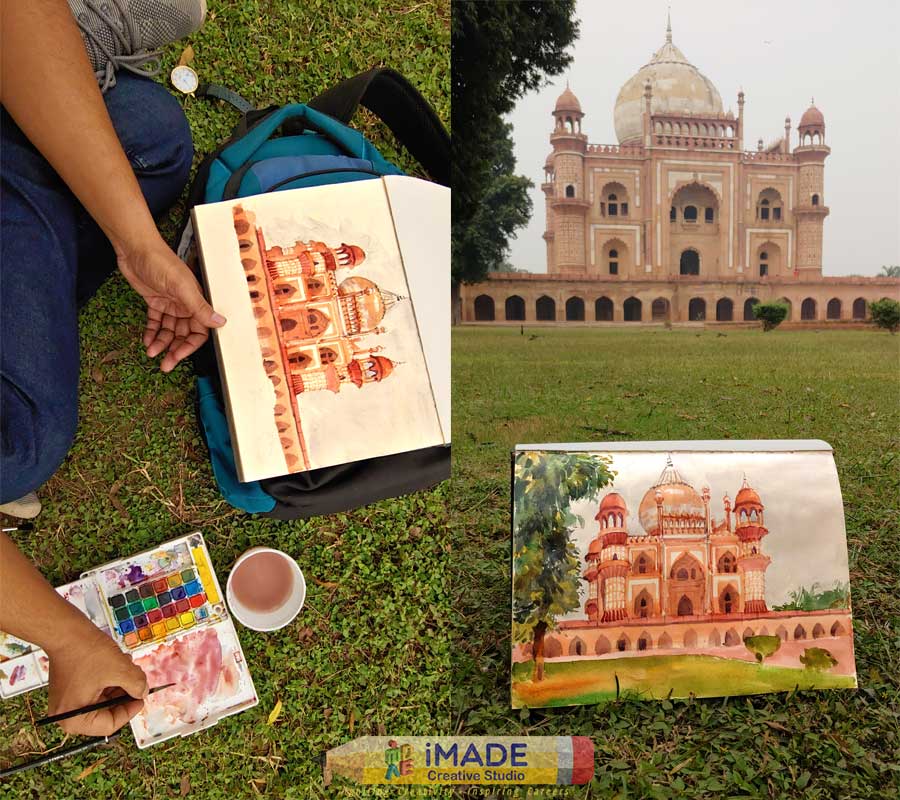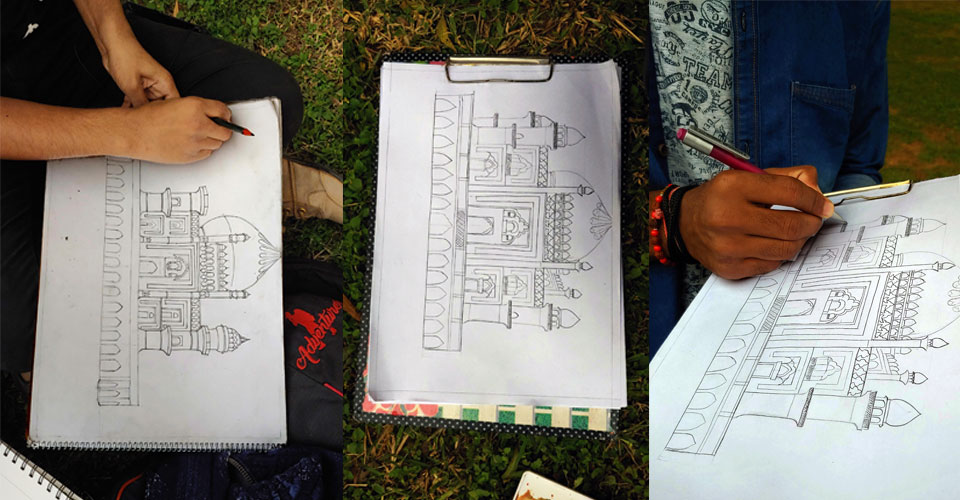 4. NGMA, Delhi Visit

NGMA acronym of National Gallery of Modern Art is situated near India Gate, Delhi is a Museum showcasing India's best paintings, sculptures, installations, handprinted posters, printmaking and other artefacts of of important historical value. Most of the artworks which are part of Indian art history curriculum of 11th and 12th std. and of higher studies are been displayed in NGMA. The artworks collected and displayed are as diverse as Indian miniature paintings, Tanjore and Mysore paintings, European travel artists, Company period, Academic realism, Bengal school, Bombay progressives are some of the styles of works collected by the museum.
We had a class conducted by one of the Museum Historian who gave us the museum tour highlighting the important aspects of art and relevant history. This trip is fruitful in terms of understanding Indian history through art illustrations, which is easy to remember.
5. Sketching trip to Lodhi Gardens and Humayun's Tomb
Lodhi gardens has a lot of historical monuments and famous for it's scenic beauty and also was the most voted place by our students for a sketching trip during summers. Alas! the whether changed it's mood and rain started to pour in the middle of our sketching. We documented the image we are working on and ran to find a shade. After it's over we just roam around the place exploring the nature and couldn't gather inspiration to complete our work. But it was a memorable and happening day!
6. AIFACS Art gallery visit
All India Fine Arts and Crafts Society is formed before Lalit Kala Akademy and played an important role in shaping the modern Indian art scenario. They held National and International art exhibitions, annual art awards etc. throughout the year. The exhibition iMADE student's has visited was a key art exhibition consisting of travelling Western artists' documentation of India through artworks. This visit was quite enriching due to a wide variety of works put up in display.
7. Sketching trip to Craft Museum
Craft museum in Delhi is an active space to uplift the crafts and craftsmen of India. It has showcased the crafts collected from different regions of India as well as the old ways of house building (vernacular architecture). Craft museum also organises craft fairs and craftsmen came to showcase their work frequently. Wooden crafts, daily use obsolete objects of different metals, doors, windows, jharokhas, rathas, pottery, dokra works, embroidery, garments and more are displayed to illustrate the bygone era. People from various creative background, researchers, set designers, interior designers can take inspiration from the display. We spend the day sketching the place, visiting the museum and craft fair, live folk dance and music performances and lastly buying souvenirs.
8. Celebrations
The more the merrier.
Diwali, New year, Christmas are some festivals which our students used to celebrate with us every year. It is usually a student led initiative filled with fun, food, dance, games, decoration and other activities.